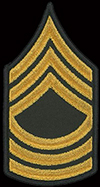 Master Sergeant Donald William Brown (1918-2002) was born in Joliet, Illinois on July 20, 1918 to Harry and Lillian Brown. Don attended Joliet Township High School and then joined the Army on July 1, 1941 as an Engineer on aircraft such as the B-17 and B-24. After numerous stateside assignments, he was assigned to the 2nd Emergency Rescue Squadron in February 1944. After having knee surgery, Sergeant Brown flew to Keesler Field, Biloxi, Mississippi and just missed his group as they moved to California to be deployed overseas to join the war effort. He signed on as an extra Engineer and flew back to Fairfield, California and was assigned to his own airplane. He flew rescue missions for the Squadron from July 1944 'till July 1945.

(From his daughter, Kathy Jordan) "Dad was discharged from the Army in August 1945 and returned home to Joliet. After being discharged, he went back to part time farming, and worked for Ernest Swenson Excavating in the Gravel Pit at Ritchie, Illinois. He drove a Caterpillar scraper there doing seasonal work. He then went to Blockson Chemical Co. and worked on the TSP furnace, and watched Caterpillar in Joliet on Rt. 6 being built. Dad was one of the first men to be hired at the new CAT plant. He began working in the shop on the burr bench in the foundry in March of 1952. As Dad worked at CAT he went to school, encouraged by CAT and them paying he tuition, he took advanced math, metallurgy, welding, and advanced hydraulics. CAT used his military experience with engines and hydraulics to steer him into hydraulic production for CAT. He moved up at CAT from the shop in production manufacturing to Hydraulic Engineer releasing. He here provided the manufacturing area with materials and work orders to produce the hydraulic components needed for the CAT scrapers and Graders, and many other CAT models.

He retired from CAT in 1980 with 28 years of service. After retiring, he once again went back to his first love, farming and driving tractors. He also worked for the Joliet Park District at Woodruff Golf Course as a greens keeper until his health force him to retire once again in 1988. He always joked about ladies day being dangerous, and the fact that he had never golfed in his life! One of Dad's other loves was attending nearby air shows during the summer! He would return home sunburned and wound up about the WWII aircraft that he had seen, and especially the stunt fliers which he really enjoyed. After he became ill, he still kept up with his interest in machines as he was able, and began to build model steam engines .His favorite was the "Sterling Walking Beam Engine" with an original plan from the 1800's. Dad built several of his own version from scratch, using Raid, pop and coffee cans, along with a big fruit can to hold the coolant! Dad loved to be outdoors, and had to be busy. He built many things for my sister and I when we were kids, and also made many wooden toys for his grandchildren. There was nothing that he didn't know how to fix! Dad had many woodworking novelties which he carried to the Threshermen's shows too! Mom still has the examples. Dad passed away on May 26, 2002 of a heart attack and complications of emphysema."

See Don's discharge record...
Back to "Roster"...


The following
The following are exerpts from Don Brown's journal
(Thanks to Kathy Jordan for taking the time to type this up and get it to us!)


July 1, 1944 - 5 p.m. Flew to Hickam Field, Oahu, Hawaii with my crew in an OA-10A.

July 2, 1944 - Arrived.

July 8, 1944 - left Hawaii for S. W. F. duty. Our plane, "Axle Ass Annie" #44-33875, was piloted by Larry E. Bormann or Commander Harold B. Smith.

July 9, 1944 - Canton, Island, and crossed International Dateline.

July10, 1944 -Tarawa, 3 p.m.

July 11, 1944 - Carney Field, Guadalcanal.

July 13, 1944 - Townsville, Australia. In Armstrong Barracks for 9 days.

July 22, 1944 - Left for Port Moresby, Jackson Field, New Guinea and for Nadzab, New Guinea.

July 25, 1944 - Nadzab to Biak, Mokemor Strip, Morotai.

July 26, 1944 - First patrol from Biak base to Tajdi. Did rescue patrol and several rescues. Covered invasions of various islands for downed pilots, throughout the Pacific Campaign. This included MacArthur's invasion of Leyte Gulf in the Phillippines,

July 27, 1944 -patrol from Biak to Maticurie (Geelvink Bay) 10 hrs. And 30 minutes.

July 28, 1944 - water landing at Naoe Island-lunched with natives (Dutch East Indies) and went in with native outriggers to beach. They fly the Dutch flag while fishing and pearling.

July 30, 1944 - patrol from Biak to Hollandia.

July 31, 1944 - flew local airdrome around Biak.

August 5, 1944 - Biak, Sansapor Patrol.

August 7, 1944 -Biak, Tadji Patrol.

August 8, 1944 -Covered strike at Ceram Bay. Heavies (B24's) struck other side of island.

August 9, 1944 -Biak Solomon Bay (Ceram Bay strike heavy on other side of island.

August 11, 1944 - 1st picked up an A 20 pilot shot up by ground fire. He flew 120 miles bracing his knees against elevator control to keep nose down as elevator was shot away partially. Picked up petroleum from Hollandia in Geelvink Bay off Rhode Island, New Guinea. Read the [Mission Report]

August 12, 1944 - patrol and recon to Utaron Base (Jap) 1/2 mile from land base and Japs cut loose with 20mm ground fire which blossomed off our starboard side and a little under our tail. It was poor marksmanship on their part, but best for us. The base was located on West Dutch New Guinea mainland. (As I recollect, this is the mission that Harry Remington let me and Baum fly the plane)

August 18, 1944 -Took off to cover strike on south side of Ceram Bay with 8 P 38 escorts-mission cancelled.

August 23, 1944 -on way to cover Ceram strike, saw US light bombers destroy Jap airstrip at Boemi on the New Guinea mainland. The bombs dropped smack on the strip. It was put out of
commission.

August 25, 1944 -covered Palace Island strike.

August 29, 1944 - covered Palace strike.

August 30, 1944 - picked up Aussie Kitty Hawk (P40) pilot, sent photo home of him being pulled to the "duck" with a hand rope. We picked him up 2 miles off coast of New Guinea at Moemi. There were quite a few AA batteries along the shore. According to Intell although we weren't fired upon. Nearly landed on an unknow Jap strip at Noemfoor Island. Pulled up just in time.

September 1, 1944 - covered Celebes strike.

September 8, 1944 - covered Celebes strike-had P38 escort.

September 10, 1944 - Covered Palau strike. Fires burning in 4 or 5 different sections. Train of bombs exploding visible along coast. They were firing from ground up at bombers (B24's). On
return rescued 4 members of B 24 crew that was forced down SW of Palau. Only 4 of 10 in crew survived. Their electrical system was shot out and couldn't transfer fuel. 2 of the boys were cut up and had to have first aid before taking off life raft. Our medic did a swell job putting a splint on 1 fellow, even though the raft was tossing in a choppy sea. Landed them home on their base, at Owi Island. Read the [Mission Report]

September 11, 1944 -To Finchhafen from Biak for spare parts.

September 12, 1944 -from Finchhafen to Oro Bay to get more parts, stayed over.

September 13, 1944 -Oro Bay to Biak base.

September 14, 1944 - Biak to Hollandia and home to Biak.

September 15, 1944 - covered Moratic invasion (Halmaharas group). 3 destroyers and 2 or 3 cruisers firing their ships guns broadside, cutting everything down before invasion. They shelled for 1 � hours, shell burst and fires were very visible all along the beachhead. The opposition seemed negative. Carrier shipboard fighters covered the beachhead from overhead, direction shipboard shell fire. We patrolled the whole landing up to 400-500 yards from shore for Snafus. Saw all the landing barges go in on the 1st, 2nd, and 3rd was of invasion. Enemy aircraft was sighted 1 � hours after invasion. The shipboard fighters took care of them I guess. We were on our way home 20 minutes before they were sighted. Stopped over at Sansipor Island. (They have a beautiful steel runway there). Landed at 12:30 for fuel and passengers. Took off at 13:40 to drop a few brass hats at OWI Island (B 24 base).

September 17, 1944 - take off for Cairn's, Australia loaded up with fresh vegetables and food.

September 21, 1944 -left Cairn's at 8:45 am and landed at Biak Borido strip at 6:30 pm.

September 24, 1944 - covered Ceram Bay strike, sighted 2 enemy planes. Pilot and I saw one flying low along shore line. We got out in a hurry. Were not supposed to be any enemy planes in this area.

September 25, 1944 - Biak to Manus Island (Admiralty Group) and picked up another crew that took a plane down for repairs at Manus. Made a beautiful water landing in the bay.

September 26, 1944 - from Manus to Momote Air strip them to Biak.

September 27 - October 10, 1944 -getting ready to move into Morotai. (close to front action)

October 10, 1944 - left Biak at 5 am via ATC transport command. (Had a jeep along that belonged to our Engineering for cargo-landed Morati (N. Of Holmahress) 9:45 am. Had 3 raids
first night. Japs hit two small fuel dumps � mile from beach.

October 11, 1944 -pretty swell set up at camp (very rugged too). Took #74 off Morotai strip and landed at Navy anchorage in bay. Had a swell foxhole alongside tent, role out of launch and into hole if need be.

October 15, 1944 - Mission to an island in the southern most Celebes to pick up 2 Dutch officers who were checking the island for enemy and setting up a weather station. They said no enemy sighted but a few Jap native MP's went thru that section a few months ago and haven't been seen since. Had trouble with #75 dead batteries. Had to hand crank both engines and were practically on the coral reef and really sweating.

October 21-22, 1944 - Left Morotai for Philippines on carrier run. Had an Assoc. Press cameraman along. He took 100 ft. Of invasion of Dulog and Leyte beachhead. 1/3 of Halsey's was in Leyte Harbor. We made water landing and expected to take off right away but an alert alarm sounded and every surface ship in harbor laid a smoke screen and we were adrift in the harbor for 2 hours. We finally drifted beside a hospital transport and tied up to her stern. The USA flak went up like a screen. The next morning enemy raided a US ship, downed Jap plane, saw it come down in a ball of flame myself. � hour before we landed at the invasion, a Jap plane let a tin fist go at the USS Honolulu and struck her midships. They had to beach her to prevent sinking. We stepped over 3 or 4 dead Honolulu crewmen when we boarded hospital transport ship. There were 4 killed and 20 injured in the explosion. The surface ships could not fire on the Jap plane for fear of hitting our own ships. The Jap fighters came in that low. One of the hospital ship crewmembers said a Jap plane was blown from the air a few minutes after the Honolulu was hit. Left Philippines the morning of the 21st and landed at Morati at 13:45 pm The night was like the 4th of July.

October 22, 1944 - (at Morotai) Japs broke thru area perimeter and blew up dynamite storage last evening. Guess we better sleep with our 45's under blanket tonight.

October 23, 1944 - covered Sulu Archipelago strike (between Philippines and North Borneo) Had 4 P 47's for escort. All quiet.

October 26, 1944 -covered strike at Zamboanga just off north side of Mindano. Heard on radio that situation was well in hand. The Jap fleet was said to be about defeated, and could hardly
stand another engagement.

October 28, 1944 -covered strike and airlifted at Tababutha. Flew in storms the first two hours. Sure was nasty weather returning to base. Visibility and ceiling was 0/0 for a while, flying right on the water and couldn't see past our wing tips. 14 hour 20 minute mission very long. The medic said he saw enemy gunfire go up at a formation of B-24's.

October 28, 1944 - Last strike covered at Tababutha. During this time we had 45 missions, with a total of 368 hours and 50 minutes. (August - October 1944)

October 31, 1944 -Early morning Jap strafing raid on our Morotai base. We hit foxholes a 5:20 am. One Jap fighter shot down by our 20mm and 50 mm. Said to be fighter and 2 Betty Bombers. There was a possibility of 1 bomber downed also. The fighter made 3 runs
but did very little damage. There were 3 planes destroyed by our guns. (Remington pilot #75).

November 1, 1944 - covered Celia (Philippines) strike and what a day. We had 3 P-47 escorts and were going in for a "Snafu" and by golly they engaged in a dogfight and left us high and dry. Then 2 or 3 zeros attacked us from the rear. The first pass put a 707 canon shell thru 3 bulk heads of old #75, and then I grabbed the port blister guns and let one of them have it. After that the darn gun jammed (I believe I did put a few in them because he pulled off and left us). Sure hope he carried a few pieces of our lead with him. They heard all about the situation back at the base before we ever landed. There were 2 generals waiting for us on the strip (a 2 star and a 1 star). They wanted to know the actual situation concerning the P-47's leaving us when they should have been hovering right above us. (Traces on all sides for about 50 miles.) Someone was really going to get chewed out. It was a 12 hour 40 minute mission. From what the buddies said they heard on the radio by Tokyo Rose, a flying boat had been shot down (meaning us) before we ever landed and were proved to be shaken but OK. After our landing a fighter pilot came to our area (one of our escorts) and said he did not expect to see us back at all. He said he saw 3 zeros take off after us in our direction. He took after them and got 2. There must have been 1 or 2 more joined up with the remaining zero and they were probably the ones that jumped us. We flew right on water so they couldn't get under us or we would have have been goners.

November 3, 1944 - flew local search unit of APO 719 (Morotai) looking for a "Snafu" but could not find any. No more diary entries as I was taken off flying status before we left Morotai.

January 1945 - arrived at Zamboanga, and was promoted to Master Sergeant. I was made Line Chief for "D" Flight, and was in this spot until the end of July, 1945.

July, 1945 - at the end of the month I left Leyte Gulf, Philippines, for home. Leaving Zamboanga, going to Morotai, to Leyte Gulf, Philippines. Put aboard the S. S. Sacajawea troop ship. After a
brief stop over at Guam (did not leave ship), we crossed the Pacific, taking 33 days.

August, 1945 - landed at Fort Lewis, Washington, end of August. I was discharged from here, and given a train ticket for home. I arrived in Joliet, Illinois on Saturday, September 3, 1945,
about noon.

August, 1945 - Arrived in the States, and went to Fort Lewis, Washington at the end of the month. I was discharged from Fort Lewis, and sent home by train.

September 3, 1945 - Arrived home, Joliet, Illinois about noon this day.